The BEST Ukulele (Uke) for Beginners
If you are newbies and looking for the BEST Ukulele (Uke) for beginners, I hope this topic will help you get a good choice. After a long time searching and consulting from many Uke stores, Uke bloggers and Uke websites, I have found a great Uke for me. So today, I am so glad to share with you all I know about this adorable instrument.
So, let's get started.
Why is Ukulele?
Uke is the best instrument for a beginner. It is so easy to practice with 4 strings. And you totally can play Uke well after a few months.
Moreover, Uke is a small instrument. Therefore, you can bring this best friend to wherever you want. The Uke will be by your side when you traveling, go camping, picnics, hanging out, etc. Uke will never let you down or leave you alone.
You must be wondering about the Uke price? Don't worry, they are all inexpensive than another instrument. And you totally can pick one under $100.
Honoka & Azita play Bodysurfing by Tenor Ukulele at the beach.
You see, the good brands can give you playable Ukulele, no matter its materials are. So…
Which type of ukulele is best suited to beginners?
Firstly, look at your hand, estimate your hand's size and see 4 main Ukulele's sizes. You will know which size is the best suited for you.
1) Soprano
The soprano is the smallest and traditional Ukuleles. The soprano is 21 inches long. And it usually has 12 – 15 frets.
The Soprano frets are narrow, so it is an ideal Uke for kids and people owning small hands. Because of its small size, Soprano's sound is quite amusing sounds and resonant.
2) Concert
Concert (also called Alto) is 23 inches long. Its sound is similar to Soprano, but a little bit deeper, louder and warmer.
Because the frets are larger than Soprano, and usually are 15 – 20 frets. It is not too longer than a Soprano, so kids also can use this size, but bigger hands will feel more comfortable.
3) Tenor
The tenor is 26 inches long. It is also larger than Soprano and Concert. Tenor got a wider body and bigger frets, therefore, its sound is more resonant and deeper. I think Tenor is more fit for adults and good players as well.
4) Baritone
The baritone is the biggest size with 30.5 inches long. It has a full tone like a guitar. If you want to have a Uke with clear sound with full of tones for performances, this size is perfect for you.
Note: Besides 4 main sizes above, you can see some less common sizes of Ukulele: Pocket, Bass, and Contrabass.
In short, you should determine your purpose of using Uke first.
If you are going to play Uke in a Chord, choose Soprano or Concert.
If you are a soloist, Tenor and Baritone are more suitable.
After all, I think you should go to a store, keep each Uke in your hand and choose the one you feel the most comfortable when you strum. Or you can see reviews, demos of ukuleles which you like on Youtube.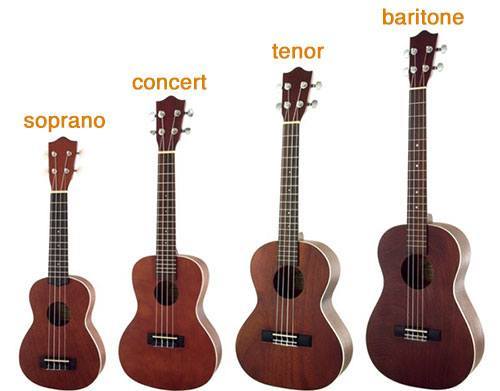 Solid Wood or Laminated or Plastic Ukulele?
Your Ukulele's sound depends so much on materials that made it. Therefore, it is so crucial to choose Uke's material to have a nice sound.
There are 3 types of materials to make Ukulele: solid wood, laminated wood, and plastic. Let's see what they can impart to your Uke's sound:
Solid wood: The Uke made of solid wood sounds the best. Tones are also richer than other materials and mellow with age. Moreover, solid wood makes the Uke is more beautiful because of clear wood grain on the body. That is the reason why it is the most expensive than the others.
Laminated wood: The Uke made of laminated wood sounds great. It seems stronger than solid wood, and less cracking due to dry and cold climate. However, laminated wood sounds the same in all its life. Therefore, they are cheaper than solid wood.
Plastic: Plastic Uke is the cheapest. Because their sounds are "cheapest", they are not durable. However, you still find a playable plastic one with Makala brand. They have released the new version called Waterman. These series sound good, and there are many awesome colors to choose from.
What about the brands?
You can see many Ukulele brands out there, such as Kala, Mahalo, Makala, Lanikai. If you are looking for the best cheap Ukulele, you can find one with Kala, Mahalo, Makala brand. With these brands, you will easily take the best Uke under $100.
The most popular brand is Kala. A Uke shop owner told me that Kala is famous, quite cheap and suitable for beginners. Its sound is great, and customers rarely got a problem with it.
Kala KA-C and KA-T are two Uke from Kala Ukulele that you should pick if you are a newbie. They are playable and just around $100. It is a good price, isn't it? I am using Kala KA-C right now, and I satisfy with my choice!
The second biggest brand for beginners is Lanikai. The LU_21C and LU_21T models are the ones you should take first.
If you are a big fan of handmade Ukes, you can find a great one with the following brand: Big Rusty, Blackbird, Bruko, Captain, Da Silva Ukuleles and so much more.
How to test Uke's sound?
Uke's sound depends on many things, such as strings, wood, body, sound hole. So if you don't know much about these, I think you should call someone to help you to take a nice sound Uke. For instance: you can go to a trusted local store, the owner will give you some good advice. Or if you have a friend playing Uke well, call him/her.
If you are too lazy to go out or none of your friend playing Uke, you can search for an online store. Then choose a model you love and research its review from some well-known bloggers. Read some articles about that Uke. And you also can ask some bloggers by commenting on their articles or email them. They are all so nice and always willing to share with you what they know about that.
HTML Buyer Guide The Best Ukulele for Beginners
On a more important thing, you should read the reviews from people who bought the Uke you like. Because some Uke is good, but don't trust every online store without knowing any information about them.
Consider your budget
For beginners, I think you don't need to spend much money on the first Uke. Because some people give up before they can play it well. So it better to take an inexpensive Uke and try to play first. If you find your passion with Uke, you can pay more to upgrade your Uke after that.
Most of the best ukulele for beginners from $50 to $100. In my opinion, around $70 for the first Uke is BEST. They sound beautiful, nice, and playable.
It is so important to determine your budget. Because this helps you to know clear about standard features for these Ukes and choose the right one with your limited budget.
Save
Save